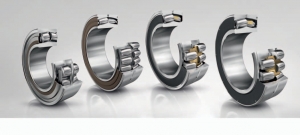 Sealed spherical roller bearing is an upgraded design of the spherical roller bearing. Like ordinary open spherical roller bearings, it has two rows of drum rollers, one spherical raceway on the outer ring and two rollers on the inner ring. The raceway is inclined at an angle relative to the bearing axis. The raceway has a certain radian. According to the different designs of the rollers and cages, there are different processing methods. In addition, there is a sealing design at both ends of the bearing (the sealing cover is made of nitrile rubber), which can prevent the entry of dust, particles, and dust, and can keep lubricating oil or grease in a sealed environment to lubricate the raceway and reduce The temperature of the bearing during operation), so as to ensure the normal operation between the raceway and the roller of the bearing, and ensure the service life of the bearing.
The radian design of the raceway makes it have self-aligning performance, so it is not easily affected by the angle between the shaft and the bearing housing on the error or shaft bending, and is suitable for the occasions where the installation error or the shaft disturbance causes the angle error. In addition to radial loads, the bearings can also withstand axial loads acting in both directions.
Typical customer requirements
Long service life
High load carrying capacity
Compact arrangements
Accommodate misalignment
Minimum maintenance
Low operating costs
Few unplanned stops
Environmental sustainability
High availability
Technical support
Industrial segments
Metallurgy
Mining and construction
Fluid machinery
Material handling
Industrial gearboxes
Textile industry
Railways
Energy
Heavy cranes are critical to many industrial processes but must work harder than ever before.
This puts individual rotating components at greater risk of failure. This, in turn, raises the chance of a crane breakdown, and unplanned downtime. Despite this, maintenance time and resources are often lacking.
CoatMaster can support in designing cranes that perform at a higher level while requiring minimal maintenance utilizing our long experience in rotating equipment. This, in turn, will boost uptime, increase productivity and enhance safety.
Coal, iron ore, and concrete are just some of the materials that conveyor operators must move efficiently. For this, they require robust conveyor systems that work effectively and reliably, and resist failure under challenging conditions.
CoatMaster expertise in rotating machinery and components, such as bearings, that underpin it, can extend lifetimes and reduce failure and downtime. Correct lubrication keeps parts running smoothly; sealing solutions prevent ingress of contamination; and condition monitoring services spot early signs of failure before they become serious.
These technologies are applied to many relevant applications, including pulleys, idlers, gearboxes and chains.
Whether you are an OEM or an aftermarket supplier, our conveyor solutions, and our expertise, help maintain systems safely and efficiently.
Forklift trucks
In manufacturing and warehousing, reliable forklifts are critical equipment. Explore our offer of bearings and units for forklift trucks. Durability tailored to your needs.
Spherical roller bearing have many kinds of design like
NSK sperical roller bearing types EA, C, CD, CA, which are designed for high load capacity, are available. Types EA, C, and CD have pressed steel cages; and type CA has machined brass cages. Type EA has especially high load capacity, features low torque, and has a high-strength cage.
An oil groove and holes are provided in the outer ring to supply lubricant and the bearing numbers are suffixed with E4.
To use bearings with oil grooves and holes, it is recommended to provide an oil groove in the housing bore, since the depth of the groove in the bearing is limited.
FAG Spherical roller bearing E1 design provides an even higher radial and axial load carrying capacity and lower bearing temperatures along with improved safety against ring fracture, which increases both the operational reliability and the cost-effectiveness
of the bearing. The new E1 design covers the entire range of the previous E design. And also FAG can supply EAS.M Brass cage, TVPB, T41A, E1-TVPB, E1K.T41A,MB  brass cage design.
Sweden Spherical roller bearings are characterized by their self-aligning ability and high load-carrying capacity. They are designed to accommodate radial load or combined radial and axial load.
Sweden spherical roller bearings have E brass cage, CC/W33, CA/W33, CCJA/W33, EJA/W33, VA405 cage design, most of the Top 10 bearing manufacturer in the world all have the sealed spherical roller bearings design, as well as TIMKEN Bearing, NTN bearing and ZKL Bearing,ZWZ Bearing.CoatMaster Bearing and EASIER brand from China.